Skip to Content
5 Minutes a Day Can Save Your Smile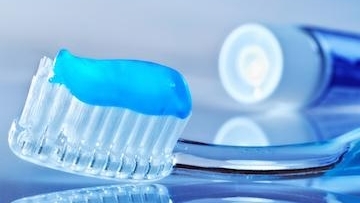 When it comes to our health, we can often fall into the procrastination trap. It's that sense of knowing you need to make certain lifestyle changes to improve your health but that you keep putting off until you have more time.
You'll start exercising next week. But next week comes and goes. Your child had a softball tournament, or you had to put in some overtime at work or pick your favorite scheduling obstacle. The point is, life got in the way, and you just ran out of time. So you tell yourself you'll get to it the next week. And the cycle of procrastination continues.
It happens to all of us, despite our good intentions. You can probably relate to the struggle between daily obligations and making time for things that are important to you, like taking better care of yourself. In keeping up with the day to day grind, you probably feel like you don't have enough time for better health.
But there's nothing more important than your health! What good is your job, your home, your family and everything else you value if you're not around or healthy enough to enjoy it? That's why our team at Matthew J. Cavendish, DDS wants to help you see how quickly and easily you can save your teeth from oral health issues that threaten your overall health.
We don't want to take too much of your time, because we know it's valuable. So we'll get right to it! Here is how you can save your smile in as little as five minutes a day!
The Minute by Minute Breakdown
First, let's clarify what we mean when we say you can save your smile. Does your smile need saving?
Yes, everyone is part of the fight against gum disease every single day, because prevention is key here. Gum disease is far more threatening than people might realize. It is very hard to detect, and sometimes it comes with no symptoms at all. So once it's allowed to take hold in your mouth, you risk tooth loss and overall health problems like heart disease, stroke, and diabetes, just to name a few.
So first, it's important to understand why your oral health routine at home is so incredibly important. But it doesn't have to be this huge interference to your schedule! For example, the American Dental Association (ADA) tells us to brush twice a day using fluoride toothpaste and soft-bristled toothbrush for two minutes.
That's four minutes total already! And if you're like most people, this is something you already do. Did you think we were going to add five minutes of additional ritual for you? Not the case.
But the last-minute involves additional work for you if you're part of the estimated 70% of Americans who admit to not practicing this habit.
It's flossing every single day. So many people don't do this! It only takes about one minute, and it serves to clear away the food that gets stuck in between the hard to reach places in your mouth. If you're concerned about proper flossing technique, all you have to do is ask one of our skilled hygienists to show you how.
Now you know how just five minutes a day devoted to your teeth and gums can save your smile!
Hustle, but Don't Hurry
If you think it would help your schedule on track, you can purchase a timer to keep on your bathroom counter or use the timer on your smartphone. You could also opt for relying on songs from your playlist to help you stay on target during your oral hygiene routine.
The most important thing to remember is that you should use proper tools and techniques to ensure the cleanest, healthiest smile possible.
Make An Appointment with Matthew J. Cavendish, DDS!
All you have left to do is to remember your regular dental cleanings and exams in our Phoenix dental office! If you need help getting your oral health back on track, or if you just want to ensure your mouth stays healthy, you have a highly-qualified team here at Matthew J. Cavendish, DDS ready to help you!
Call our Phoenix dental office TODAY at 602-835-1304 or fill out our online form to schedule an appointment.