Skip to Content
Gingivitis Treatment in Northern Phoenix, AZ
Phoenix's Choice For Gum Disease Diagnosis & Treatment
Gingivitis is one of the most common and painful dental issues for millions of patients. Dr. Matthew J. Cavendish, DDS, PLLC provides gum disease education, diagnosis, and treatment for patients in Northern Phoenix, AZ and the surrounding areas. Once we notice a patient's gums bleeding during an explanation or other symptoms, we begin to monitor the progression of signs of gum disease. Severe gum disease, or periodontal disease, often leads to tooth and jawbone loss. It's critical to take optimal care of your oral health and treat gingivitis in its earliest stages. Contact us to learn more!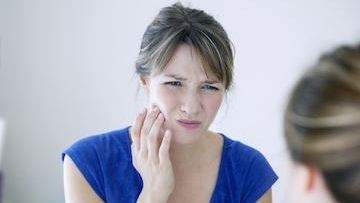 Symptoms of Gingivitis
There are multiple signs of gum disease, including:
Tender or bleeding gums
Consistent bad breath
Painful chewing
Severely sensitive teeth
Loose teeth
Deep pockets between gums and teeth
Sensitive teeth
Receding gums
Diagnosing Gum Disease
During your routine visit, Dr. Cavendish and our dental team will examine your gums for any type of inflammation. If we find pockets between your gums and teeth, we'll measure them to see the depth. We'll also check for any bone loss during x-rays.
Causes Of Gum Disease
The most common causes of gingivitis include:
Smoking or tobacco use
Poor oral hygiene
Hormonal changes
Poor nutrition
Constant stress
Specific medications
Chronic diseases
Gingivitis Treatment
The most important part of gum disease treatment is to promote the reattachment of gums to teeth. We strive to reduce the swelling, the risk of infection, and the depth of the pockets. From scaling and root planing in earlier stages to possible periodontal to restore the gum tissue and damaged bone, treatment depends on the stage of your gum disease.
Gum Disease Prevention
We'll work with you to reverse gingivitis and keep it from getting to the severe stage of periodontal disease. By practicing proper plaque control through positive oral care, we can prevent gum disease. It's essential to visit the dentist twice a year and continue daily brushing and flossing practices. We'll remove plaque and tartar buildup at your routine dental exams, check the color and firmness of your gums, and look for any other signs of gum disease to help prevent the problem.
Why Choose Dr. Matthew J. Cavendish?
Dr. Matthew J. Cavendish offers state-of-the-art dental technology to ensure our patients are as comfortable as possible with the highest level of equipment. We stay on top of the game with digital x-rays, laser equipment, and our DIAGNOdent system to identify tiny cavities. We understand many patients are anxious about a trip to the dentist, so we offer sedation dentistry for comfort. Our family-like atmosphere is perfect for patients of all ages. Come see us today!
Contact Dr. Matthew J. Cavendish, DDS 
Our team understands gum disease is often uncomfortable and painful. We'll help you prevent gum disease before it begins and treat it if we find any signs. Gum disease is often a small dental issue that can grow quickly into a severe dental problem. If we see signs of gum disease, we'll work quickly to find the best treatment plan to fit your needs. Contact us today to schedule an appointment!