Skip to Content
Panoramic Dental X-Ray Procedures in Northern Phoenix, AZ
Comprehensive Digital Dental X-Rays
Upholding optimal oral health spans far beyond the surface of your teeth. That's why Matthew J Cavendish DDS, PLLC provides state-of-the-art digital dental X-rays for patients in Northern Phoenix, AZ. With a commitment to the highest standards of preventative dental care, rely on our trusted professionals to maintain the integrity of your health and smile.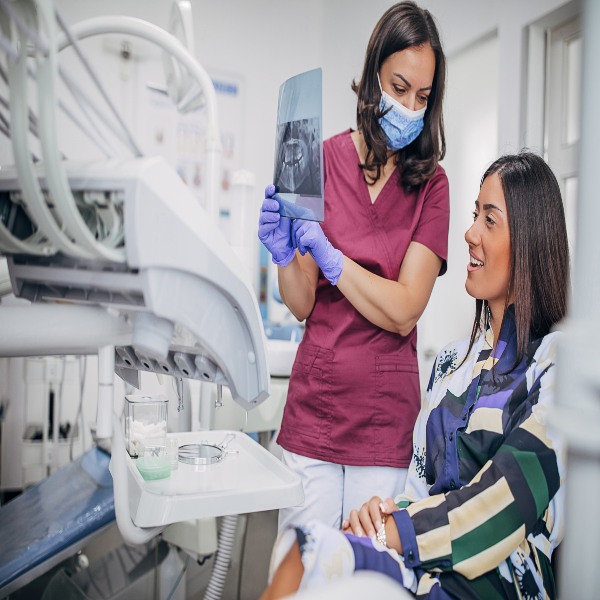 What Are Dental X-Rays?
Dental X-rays are an instrumental diagnostic tool used in dental care plans. Dental X-rays facilitate early intervention by detecting areas of concern within the mouth, gums, jaw, and teeth. Dental X-rays uncover symptoms and abnormalities otherwise invisible to the naked eye, ensuring issues do not develop further.
Understanding Digital X-rays
Digital X-rays are a revolutionizing dental advancement. In contrast to using X-ray film like older X-ray methods, digital dental X-rays use a cutting-edge electronic sensor to capture and store images of the patient's mouth. This enables our professionals to view, enlarge, and assess X-ray images more accurately than ever before with a process that takes half the time.
Types of Dental X-Rays
There are various types of dental X-rays available. Each dental X-ray has a unique purpose, making it more suitable for specific cases than others. The types of dental X-rays include:
Bitewing X-rays
Periapical X-rays
Panoramic X-rays
Cone Beam Scans
Benefits of Digital Dental X-Rays
Digital dental X-rays benefit those with pre-existing oral concerns and those looking to be proactive about their oral health. The advantages of digital X-rays include:
Early detection and intervention
Simple to obtain
No waiting times
Precise and accurate diagnosis
Clear imaging
Safe with minimal radiation
Easy to store and share
Are Dental X-Rays Safe?
Digital dental X-rays provided by Matthew J Cavendish, DDS, PLLC are entirely safe. In contrast to former X-ray methods, digital dental X-rays expose patients to minimal radiation levels. As such, there is far less risk of harmful radiation side effects. Furthermore, patients wear a protective lead apron and collar to shield the abdominal area and thyroid.
What Issues Can Dental X-Rays Detect?
Dental X-rays are used to detect a vast range of dental concerns. Some of the issues frequently detected with digital dental X-rays include:
Small areas of decay hidden between the teeth
Decay underneath existing dental fillings
Bone loss
Abnormalities because of infection
Condition and positioning of teeth to prepare for restorative or orthodontic treatment
Abscesses
Cysts and tumors
How Often to Pursue Dental X-Rays?
At Matthew J Cavendish DDS, PLLC, we recommend that all our new patients pursue dental X-rays when they begin treatment with us. Following your initial X-rays and a dental history review, we will customize a dental care treatment plan. The treatment plan will include the frequency of dental X-rays we recommend based on your needs.
Safe Dental X-Rays at Matthew J Cavendish, DDS, PLLC
Digital X-rays are a safer and more comfortable alternative to traditional X-rays. Our cutting-edge digital dental X-rays at Matthew J Cavendish DDS,PLLC are designed to enhance patient comfort. The X-ray process is prompt and to the point, providing us with clear imaging that protects your oral health.
Protect Your Oral Health with a Dental X-ray Today
Dental X-rays help patients achieve optimal oral health while mitigating the risk of damaging oral concerns and costly treatment plans. To maximize your oral health, get proactive about your oral care with Matthew J Cavendish DDS, PLLC, and our trusted digital dental X-rays. Contact us today to schedule your appointment.