Skip to Content
Benefits of Inlays & Onlays
What Are Inlays and Onlays?
When a tooth needs more than a filling but not necessarily a crown, inlays and onlays may be the best solution. Also called indirect fillings, inlays and onlays provide a conservative alternative to the more involved process of fitting a crown when a tooth has a large cavity or other prominent damage. Inlays and onlays are more resistant to fractures and damage than the typical materials used for filling cavities, and they're stain resistant. They're custom-made for each patient, and are generally durable enough to last for many years. Patients retain a larger percentage of their natural tooth with an inlay or onlay than with a crown, and they bolster a tooth's stability in cases of weakness or damage. Caring for teeth with inlays or onlays doesn't require special products. Patients can continue brushing and flossing just as they did before the procedure.
The offices of Dr. Matthew J. Cavendish, DDS, provides inlays and onlays treatment in Phoenix, AZ. Contact us today for information about any of the services we offer, or to make an appointment.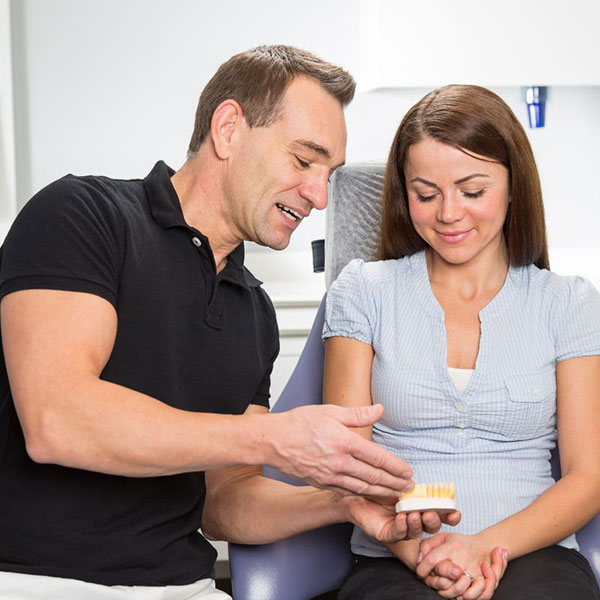 What Are Dental Inlays?
Inlays are positioned and bonded onto the chewing surface of the tooth to replace lost tooth structure. When a cavity has progressed beyond the limits of what a filling can address, or in cases where a tooth isn't strong enough to support a filling, an inlay may be called for. Inlays aren't as extensive as onlays and are used to cover only a portion of the tooth's chewing surface. Inlays and onlays are created in a dental laboratory, and a dentist does the final fitting. They're commonly made out of tooth-colored materials like ceramic, porcelain, or dental composite, but are also sometimes made of gold.
What Are Dental Onlays?
Onlays are more involved and cover more of the tooth than inlays. Onlays cover the entire chewing surface of one or more teeth and replace one or more cusps, or points on the teeth. They function similarly to crowns, but don't fully encapsulate the tooth as a crown does. As with inlays, onlays are made in a lab but fitted by a dentist, and they can be created from tooth-colored materials or gold. When you visit the offices of Dr. Matthew J. Cavendish, we'll do a full exam and evaluation before recommending an onlay, inlay, crown, or other dental procedure. Contact us to learn more.
What to Expect During the Procedure
Inlays and onlays dental treatment usually involves two steps, after we've determined that they're the best option for you. First, we'll numb the area, remove any decay, and take impressions of your tooth, and then we'll send the impressions to a lab so they can create the indirect filling. In some cases, you'll need a temporary filling. Second, we'll place the inlay or onlay and make sure it fits perfectly.
How Long Do Inlays and Onlays Last?
Inlays and onlays are quite durable and may last for many years if they're cared for correctly. People who grind their teeth, are prone to cavities, or who have dental-impacting medical conditions may not get the same results
Why Choose Dr. Matthew J. Cavendish, DDS?
At the offices of Dr. Matthew J. Cavendish, we frequently make our inlays and onlays with Bruxzir Solid Zirconia, which we've found to be extremely durable and very natural in appearance. Dr. Cavendish has many years of experience with inlays and onlays and will recommend the best type of material for your specific situation. You can rely on our services for thorough, professional treatment that gives you the best options for your teeth.
Contact Dr. Matthew Cavendish, DDS
If you live in or near Phoenix, AZ, and are looking for a skilled, highly qualified dentist for your family, contact the offices of Dr. Matthew J. Cavendish, DDS. We treat patients of all ages and provide a comprehensive slate of dental treatments and procedures. Fill out our contact form, or call us for more details or to schedule an appointment.