Skip to Content
Schedule Your Chipped Tooth Repair in Phoenix, AZ
Matthew J Cavendish, DDS, PLCC Offers Chipped Tooth Treatment
Matthew J Cavendish, DDS, PLCC, provides chipped tooth repair services to patients in Phoenix, AZ. Our professionals are passionate about performing comprehensive treatment when you need it most. Have you chipped your tooth after playing a competitive family soccer game in the yard? Did you bite down too hard on a piece of food that damaged one of your teeth? No matter the problem, we are happy to help restore your tooth's health and give you the smile you deserve. Contact us today to schedule your appointment.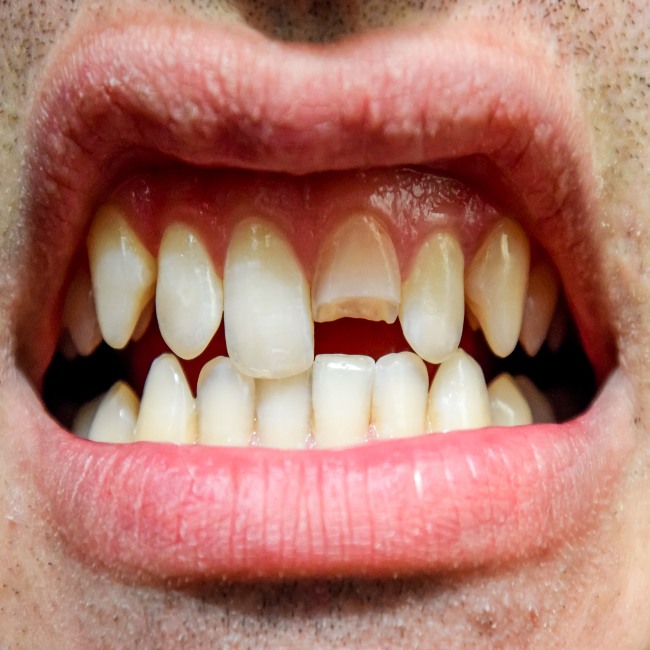 What Are the Types of Chipped Teeth?
There are several types of chipped teeth depending on the cause and impact. Whether the fracture is surface-level or more profound, it is simple for us to diagnose. Here are the following cases we typically see in our patients:
Loose or Moved Teeth – This is the worst type of chipped tooth and happens where your tooth sits inside your jawbone. A dentist can effectively diagnose this problem with the help of an X-ray machine.
Root Fracture – A root fracture occurs when your tooth breaks off below the gum line. It may become dislodged or entirely removed, and a dentist must retrieve any fragments below the surface.
Crown Fracture – This happens with the part of your tooth above the gum line. Your tooth may break off entirely or have a slight fracture.
What Are the Causes of a Chipped Tooth?
Do you have a chipped tooth and are unsure how it happened? There are several reasons why patients discover this problem, from natural causes to accidental injuries. No matter the situation, we are happy to diagnose and treat your fractured tooth that may result from any of the following:
Cavities
Misaligned Bite
Poor Dental Hygiene
Teeth Grinding
Chewing Hard Objects Like Pens or Ice Cubes
Trauma or Injury to Your Mouth
Discover How to Repair a Chipped Tooth
Our staff is highly trained and equipped with several techniques to get you back to quality living. If you are experiencing any discomfort from your chipped tooth, there are ways we can cover the surface to alleviate pain and treat any damage. Here are the following repair options we'll discuss with you to devise the best plan possible for care:
Dental Filling: A filling can repair chips on the surface levels of your tooth's enamel.
Dental Bonding: Small chips, especially on the front teeth, may require a dental bonding treatment. This means we use a composite resin that shapes your teeth to fill the damage.
Dental Cap or Crown: Large chips may require a dental cap or crown that fits over the entire tooth. If you're experiencing discomfort or pain, this will help cover anything exposed.
Root Canal Therapy: If the entire crown is broken off but still has your tooth's root, we can perform root canal therapy. We'll insert a post in the canal and build enough material to place a crown over the tooth.
How to Know if You Need Emergency Treatment
Teeth that are only impacted with small chips to your tooth's enamel have the least risk for total loss. If the problem is more extensive, it could lead to infection and extraction. We recommend seeing us right away for an emergency service when you discover your tooth is chipped. The longer you wait, the more prone you are to further fractures and other health problems requiring more treatment and appointment costs. Our goal is to maintain your smile with the utmost care, so we'll X-ray your teeth and evaluate your situation to ensure no further issues. Depending on the complexity of your case, you may need to visit us for multiple appointments to restore your tooth's health and appearance completely.
Why Should You Schedule an Appointment with Us?
Matthew J Cavendish, DDS, PLCC, is dedicated to restoring your teeth to optimal health when a problem arises. If you or your child have discovered any damage or discomfort in your mouth, we are here to diagnose and treat the situation. We recommend visiting us as soon as possible when your tooth is chipped to prevent further issues that may require more extensive treatment. Contact us today to schedule your appointment.