Skip to Content
Have Questions About Pediatric Dentistry in Phoenix, AZ?
Learn More About Our Premier Pediatric Dentistry Services
Starting good dental hygiene habits at an early age is vital to ensure your teeth are well taken care of throughout your entire life. At the office of Matthew J Cavendish, DDS, PLLC, we offer comprehensive pediatric dental services and the perfect environment for your children to receive premier dental care. Whether it's your child's first appointment or they've been to the dentist before, you can have peace of mind knowing the experience will be stress-free and as relaxing as possible for everyone. No matter what stage of life you're in, our family dentist is here for you.
Offering comprehensive dental solutions for residents in Phoenix, AZ, and the surrounding areas, our family and cosmetic dental office has been helping patients obtain their dream smiles for more than a decade. Below, we've answered some of the most frequently asked questions we receive about our pediatric dentistry services. Please call us if you have any further questions or would like to schedule an appointment.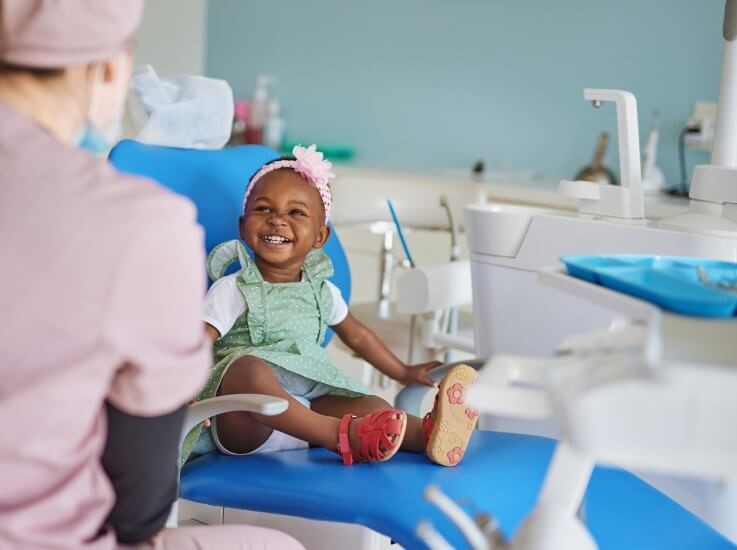 Why Should I Bring My Child to See a Pediatric Dentist?
Taking your child to a dentist who specializes in pediatric dentistry is important because they've received additional years of training to properly treat your child's dental needs. A pediatric dental specialist typically receives two to three additional years of training after dental school is complete to treat children specifically, including those with special health needs.
The dental office of Matthew J Cavendish, DDS, PLLC, is designed to meet all your child's needs. We're committed to making your child feel welcome in our office, and we encourage them to practice good oral hygiene habits.
When Should I Schedule My Child's First Dentist Appointment?
The general rule is to schedule a dentist appointment for your child by their first birthday. To help prevent dental problems in the future, your child should see a pediatric dentist upon getting their first tooth, which is usually between six to 12 months of age.
When Will My Baby Start Getting Teeth?
The age your child will start getting teeth varies individually, but the first baby teeth usually appear between the age of six and eight months. The lower front teeth are typically the first ones to make an appearance.
Why Are Baby Teeth Important?
Your child's first set of primary teeth or "baby" teeth are important for many reasons. Not only do they help your child with speaking clearly and communicating, but it also helps them chew naturally and form a path for the permanent teeth to follow. To ensure a lifetime of good oral health, it's important to introduce your child to good oral hygiene habits and schedule routine dental check-ups every six months.
Can Thumbsucking Be Harmful to My Child's Teeth?
Thumb and pacifier sucking that continues for an extended period of time can create bite problems and crowded or crooked teeth. If your child is still sucking their thumb when their permanent teeth come in, your dentist may recommend an appliance to help prevent crowding and other issues. Most children stop sucking their thumbs on their own.
What Are Dental Sealants?
Sealants are clear or shaded plastic that are applied to the surface of a tooth to help keep them cavity-free. They help fill in the pits on the surface of the teeth, which can trap debris and bacteria and eventually cause decay. Sealants are clear or shaded plastic applied to the teeth to help keep them cavity-free. Sealants are easy to apply, pain-free, and can effectively prevent cavities and protect teeth for many years.
When Should My Child Start Using Toothpaste?
It's important to make sure your child is old enough not to swallow excessive amounts of toothpaste before using a toothpaste that has fluoride in it. We usually recommend waiting until your child is at least three years old to use a toothpaste containing fluoride. Before they reach that milestone, you can clean your child's teeth with water and a soft-bristled toothbrush. Once they start using fluoride toothpaste, parents should supervise their children while they're brushing to make sure they're not using more than a pea-sized amount and not swallowing toothpaste.
Why Is Fluoride Recommended?
Getting an adequate amount of fluoride until the age of 16 helps ensure teeth remain strong and healthy. Fluoride also allows for proper enamel development.
What Should I Do When My Child Gets a Toothache?
If your child is complaining about tooth or mouth pain, you can rinse their mouth with warm saltwater and apply a cold compress to their face if it's swollen. This should help relieve some of the pain until they can see a dentist. Don't put any heat or over-the-counter medication on the sore area, but you can give them a pain reliever for the pain. It's important to schedule an appointment as soon as possible when your child is complaining about a toothache.
My Child Plays Sports. How Can I Help Protect Their Teeth?
Using a mouthguard should be one of the top priorities if your child is involved in any sports. You can purchase mouth guards at many sporting goods stores, but a custom-made mouthguard fitted by your dentist will offer the best protection against sports-related mouth injuries.
If My Child Gets a Cavity in a Baby Tooth, Should It Still Be Filled?
When your child's primary or baby teeth are neglected, it can result in pain, infection of the gums and jaws, premature loss of teeth, and impairment of their general health. Baby teeth that have decay can also cause decay on permanent teeth. If your child has a cavity on one of their baby teeth, Dr. Cavendish will take a look and make the best recommendation based on the situation. Caring for baby teeth is vital for your child's dental health.
How Can I Prepare My Child for Their First Dentist Appointment?
If you're planning your child's first pediatric dentist appointment, there are several things you can do to help them prepare for the visit, including:
Play mimicking games with your child to "open wide"
Use a washcloth to wipe your child's teeth after eating
Brush and floss in front of your child so they can witness good oral hygiene habits
Maintain a positive attitude that won't incite fear in your child about going to the dentist
Bring your child in for a pre-tour of our office to get them comfortable
Let them know the dentist is here to help them keep their teeth and gums healthy
How Often Should I Bring My Child In for Routine Check-Ups?
We recommend your child sees the dentist for a routine check-up every six months. During these check-ups, we will clean the teeth, so they're free of plaque and tartar and ensure there are no serious problems developing. Scheduling regular dental check-ups at an early age will help your child instill great oral hygiene habits, and it will become a part of their normal routine.
Schedule Your Child's Next Dentist Appointment Today!
Whether you're scheduling your child's first dentist appointment or looking for a new family dental practice to call home, the office of Matthew J. Cavendish, DDS, PLLC, is accepting new patients in the Phoenix, AZ area. If you're a new patient, we encourage you to download our new patient forms before your first appointment. You can also view our testimonials to see what kind of treatment you can expect from our friendly, compassionate team. Contact us today to schedule an appointment or learn more about our pediatric dental services!