Skip to Content
Quality Pediatric Dentistry in Phoenix, AZ
What Is Pediatric Dentistry?
Proper dental care should begin early in life, and that includes regular visits to the dentist. Children should see the dentist by their first birthday, but it's best to make an appointment after the first tooth appears, generally between six months to one year.
Working with a pediatric dentist like Matthew J. Cavendish, DDS, ensures that your child receives pediatric dental care that's appropriate for their age. Pediatric dentists receive an additional two to three years of training focused on treating children. They know how to treat baby teeth, can offer advice about issues like thumb sucking and baby bottle tooth decay, and are able to spot potential problems before they develop.
At the dental offices of Matthew J. Cavendish, we provide children's dentistry as well as dental services for adults. Contact us to learn more about the services we provide, or to schedule an appointment.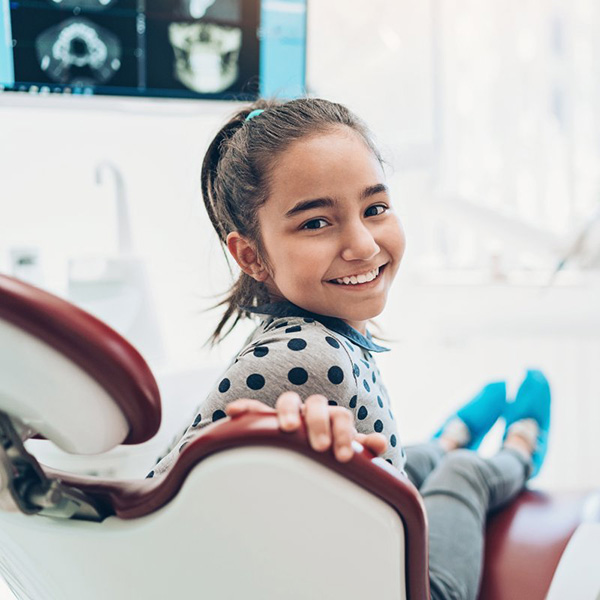 Popular Pediatric Dental Treatments
Fluoride treatment – Numerous studies have shown that fluoride helps protect the teeth, strengthening enamel and guarding against acids and bacteria. At the end of pediatric teeth cleaning, we recommend a fluoride treatment to bolster tooth health.
Sealants – Dental sealants can offer additional protection against acid, bacteria, and other materials. Sealants fill in grooves and deep pits, helping to stop cavities.
Mouth guards – If your child grinds their teeth, a mouth guard can prevent damage to the teeth. We offer custom-fit mouth guards, which offer a much better result than over-the-counter products.
First visits for babies – Your child should have their first dental appointment by the time they reach their first birthday. We encourage you to bring your child in as soon as their first tooth comes in.
Tooth Extraction
We make every effort to save natural teeth, but in some cases, your child may need a tooth extracted due to infection, trauma, or other issues. Adolescents may have wisdom teeth, or third molars, that are problematic and need extraction. We'll do an in-depth examination before making any recommendation on the best plan of treatment. If you have concerns that any of your child's teeth need to be extracted, contact us to schedule an evaluation.
Dental Cleanings & Exams
Seeing the dentist every six months is an excellent way to make sure your child's oral health is at its best. Exams involve a thorough inspection of the mouth and may include x-rays. During the cleaning, our hygienists remove plaque and tartar to keep teeth sparkling clean and free of issues that can cause cavities and gum disease. Children may also benefit from treatments like dental sealants and fluoride treatments.
Teeth Fillings
Fillings are one of the most common dental procedures. Most commonly associated with cavities, fillings can also be used to help with cracked or chipped teeth, or teeth worn down by grinding (bruxism). Typically, we can provide ceramic, composite, gold, or silver fillings, and we'll let you know what material we feel is best for your child's filling. There are price differences between different materials, and insurance may also be a factor. Contact the offices of Dr. Matthew J. Cavendish for details or to make an appointment.
Preventive Dentistry
Preventive dentistry begins at home with good brushing and flossing habits, and children in particular benefit from preventive procedures that can have a positive effect on a child's oral health for the rest of their life. Things like sealants, fluoride treatments, and mouth guards can offer important protection for a young person's teeth.
Corrective Dentistry
When teeth need to be repaired or replaced, corrective dentistry (also called restorative dentistry) is used. Common procedures include root canals, crowns, and bridges, as well as more intensive treatments like dental implants and mouth reconstruction. While these types of procedures are more common in older adults, there are instances where children need corrective dentistry.
Why Choose Dr. Matthew Cavendish for Pediatric Dentistry?
Dr. Cavendish has extensive experience and training in pediatric dentistry. We work with parents to develop a comprehensive oral health plan for their children, and we provide several preventive treatments that can help keep your child's teeth healthy. Our friendly, helpful staff knows how to treat young patients, and Dr. Cavendish is highly skilled at treating dental issues that may affect children and adolescents.
Contact Dr. Matthew Cavendish, DDS
Protect your smile with dental care from Dr. Matthew Cavendish, DDS. We treat people of all ages and provide a host of services to address everything from regular cleanings to implants. If you live in or near Phoenix, Arizona, and would like more information, please fill out our contact form or call us.