Skip to Content
Discover the Benefits of CAD/CAM in Dentistry in Phoenix, AZ
Matthew J Cavendish, DDS, PLCC: The CAD/CAM Process & How it Works
Matthew J Cavendish, DDS, PLCC, explains the benefits of CAD/CAM in dentistry in Phoenix, AZ. We offer some of the latest technological advancements in our practice to ensure you receive the oral healthcare you deserve. With the help of CAD/CAM technology, you can experience shorter wait times with the same quality treatment for optimal results. Our team has cultivated a welcoming environment for our patients to enjoy while we treat your situation comfortably. If you need a crown, bridge, or other restorative methods for treatment, we will assess your teeth to provide the best action plan for care. Contact us today to schedule your appointment.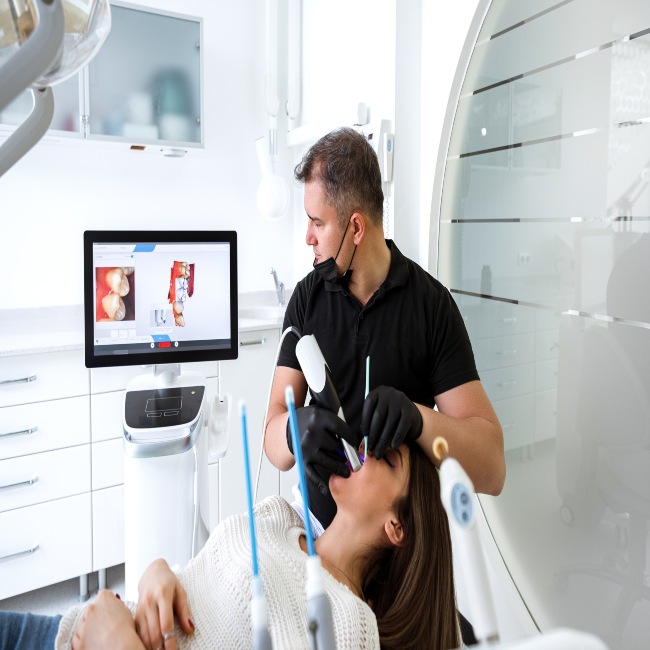 What is CAD/CAM Dentistry?
Have you ever heard of CAD/CAM technology? Computer-aided design (CAD) and computer-aided manufacturing (CAM) are software programs developed to help professionals conduct extensive dental treatments. This technology was created around the mid-80s, but with the enhancements of today's computing, these machines work quicker and are more accurate for procedures. It can complete restoration operations using dental crowns and bridges, veneers, inlays, and onlays.
How Does This Treatment Work?
CAD/CAM technology allows us to create your treatment plan without using messy dental impressions. It forms customized 3D images of your prepped tooth or teeth by scanning them with a high-functioning camera. The virtual design formed by the camera guides the milling machine to carve out your restorative piece from a solid block of material that becomes the base for your overall treatment process. Depending on your specific needs, your appointment can take anywhere from 40 minutes to two and a half hours. Here is the step-by-step plan you can expect to experience when we use this technology:
We'll give you anesthesia for comfort while we work
Your tooth will be prepared for scanning
The machine will assess your tooth in its entirety
A design will be created that guides the milling process of your restoration piece
We'll polish your tooth for the final product
Your tooth covering will be cemented in place permanently
Enjoy the Benefits of CAD/CAM Dentistry
When you choose CAD/CAM for your dental treatment, you'll reap many benefits that produce lasting outcomes. We love the convenience and simplicity of this procedure so you can have quick and efficient solutions to any level of damage or pain you're experiencing. Here are the following perks you can look forward to when you schedule this procedure:
Improved Accuracy
Shorter Appointment Times
Lower Costs of Service
Significantly Precise Treatment with Lasting Restorations
Customizable Fillings Tethered to Your Tooth and Bite
Overall Improved Comfort and Quality of Life
How Do You Know If This Technology Procedure Is for You?
Are you looking for single-day appointments to solve your dental problems completely? We have invested in some of the latest and most remarkable technologies to deliver premier, lasting results. With the help of CAD/CAM machines, we can create crowns, bridges, and other restoration pieces to apply to your teeth in minutes or a few hours. During the process, all you must do is relax and let us do the hard work to bring your quality of living back to well-deserved comfort.
Contact Matthew J Cavendish, DDS, PLLC Today
Matthew J Cavendish DDS, PLCC, is committed to providing you with the comprehensive dental  care you deserve for optimal results. Maintaining your oral health is our top priority, which is why we are one of the leading practices in Phoenix for treatment. No matter your situation, we are proud to serve you with some of the highest quality technologies that enhance the quality of your teeth with precision. Contact us today to schedule your appointment.