Skip to Content
Get a Smile Fit for the Red Carpet with Dental Veneers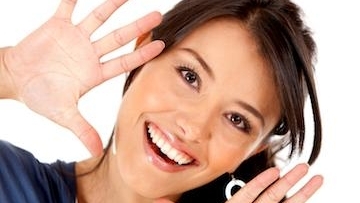 If you're someone who treats the annual Oscars like the Super Bowl, then you've probably looked upon today's celebrities with envy.
Who hasn't?! With all the glitz, glamour, and flawlessness you see on the red carpet, it's hard not to wonder how on earth they manage to look so perfect.
We may not be able to make your hair, skin, and clothes look worthy of the red carpet, but at Matthew J. Cavendish, DDS, we're proud to tell you that our specialty is in crafting the perfect celebrity smile!
With veneers from our Phoenix, AZ dental office, you'll walk out with the smile of your dreams that rivals the ones you saw on Oscar night!
Dental Veneers Were Made for the Red Carpet
It may come as no surprise that dental veneers were created for celebrities in the first place. Hollywood producers wanted their actors to grace the silver screen with a flawless, bright smile. They were able to create the earliest veneers to accomplish this, and eventually, dentists found ways to perfect them and the creation process.
Now, they're one of the most popular smile beautification options around.
Veneers can make an unhealthy smile look whiter, brighter, and healthier. They can also:
Close gaps between your teeth
Hide surface cracks and chips
Cover oddly-shaped teeth
Make your teeth look balanced and even
Using the finest materials, Dr. Cavendish can create custom-made dental veneers that will fit over your teeth comfortably. They're also made to resemble the same translucence of natural tooth enamel, so your smile looks perfect without looking phony or fake.
Here are a few commonly discussed details about the veneers process with our cosmetic team at Matthew J. Cavendish, DDS!
You Don't Need a Stunt Double to Handle the Procedure
Because veneers require modification to your tooth enamel for a fit that looks and feels natural, you'll need to spend a little time in the dental chair to prepare your teeth.
But the good news is that there are no nerve endings in your enamel, which makes the process more comfortable than you might assume.
If you have dental anxiety, we do offer various sedation and comfort options so you don't have to let fear decide what kind of smile you should have!
Reach out to our Phoenix, AZ dental office if you'd like to know more about how we can make your care as relaxing and stress-free as possible!
You Don't Need a Celebrity Salary for Veneers
The only way to know for sure what the cost of your veneers would be is to visit our Phoenix, AZ dental office for a consultation.
That's because every patient will have different cosmetic issues that need to be addressed. While you may need only a few veneers on your top row, another patient might need more or less, so costs vary.
The important thing to remember is that we create custom veneers for adults from all walks of life who have wide-ranging financial backgrounds.
We offer a variety of payment options, including acceptance of various insurance plans, flexible payment plans, and no-to-low interest financing.
We don't think anyone should have to settle for a smile that makes them unhappy just because they can't afford to pay for everything upfront out of their pockets. We will work with you to come up with a payment method that you feel comfortable with.
You Don't Need a Personal Assistant to Care for Veneers
It might sound like veneers are as high-maintenance as the celebrities who wear them!
But actually, the care they require is likely no different than what you already do every day when you clean your teeth now.
Regular brushing and flossing are all it takes to keep your veneers clean. But like other mouth-healthy habits, you'll want to eat a nutritious diet and avoid behavior that might threaten your veneers like crunching on ice cubes or using your teeth as tools to tear and open hard objects.
Another thing to keep in mind, which is also something you probably already do, is that you should maintain routine dental cleanings and exams with Dr. Cavendish!
Schedule A Consultation
We know it's easy to assume that any perks of celebrity aren't within your grasp, but that's certainly not the case with veneers at Matthew J. Cavendish, DDS.
Dr. Cavendish and our team can perfectly sculpt your custom veneers so they fit comfortably, hide flaws, and look worthy of the silver screen.
First, you'll need to call and schedule a cosmetic consultation in our Phoenix, AZ dental office so Dr. Cavendish can determine if veneers are right for your smile.
Call Matthew J. Cavendish, DDS at 602-835-1304 or fill out our online form to schedule your appointment.