Skip to Content
Family Dentistry Should Be High-Quality and Carefree!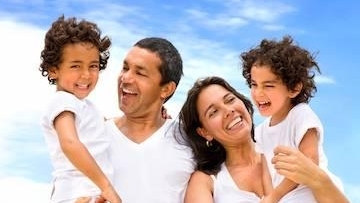 Life is so hectic anymore, especially if you're being pulled in several different directions with a job, kids, and various other responsibilities.
That's why it's so helpful when you can find a family dentist who goes above and beyond to make your dental care and appointments as high-quality, convenient, and carefree as possible.
You don't have to look any further in the Phoenix, AZ area than our team at Matthew J. Cavendish, DDS, PLLC!
Today, we're highlighting some of the ways we can meet everyone's dental needs in your household so you don't have to waste time, money, and energy you don't have traveling all over town to multiple specialists and offices.
Everything you need is right here with Dr. Cavendish and our family-friendly dental team!
A Family Needs Carefree Dental Care
You have enough to deal with on a daily basis juggling work, home, and family life.
From packing school lunches in the mornings to homework, practices, and dinner in the evenings, your plate is certainly full.
That's why you need to come to our Phoenix dental office for carefree family dentistry.
Instead of finding ways to coordinate multiple dental appointments at various locations across town, you can find stress-free care in one convenient location.
Dr. Cavendish and our team know your time is valuable, so we work hard to see everyone in your household for cleanings, exams, and treatments for healthy, strong teeth and a nice-looking smile for a lifetime, all in one trip, or as few visits, to our office as possible.
A Family Needs a Variety of Quality Dental Services
It's incredibly humbling for us when a family chooses our team to handle their dental needs, especially knowing how many options are available to them.
All it takes is a simple Google search to know your dentist office options in the Phoenix, AZ area.
But time and again, family's trust us because of our kid-friendly staff, our warm, inviting atmosphere, and our quality dental care.
We offer all sorts of treatments to suit your family's ever-changing needs for a variety of ages and stages of development, like:
Routine dental cleanings and exams
Dental sealants
Orthodontic intervention and clear braces for kids and adults
Cosmetic dentistry
Quality dental restorations
Tooth replacement options like dentures and dental implants
Whatever you need to preserve your oral health and a great-looking smile, you'll find it with Dr. Cavendish and our team here in Phoenix!
Make An Appointment For Your Family
We know how busy family life can be, which is why at Matthew J. Cavendish, DDS, we try to make your family's dental care as convenient as possible.
It's also important that your various dental needs are met using the latest technology at the hands of a well-trained staff like ours in Phoenix, AZ!
Let us help your family's smiles stay healthy!
Call Matthew J. Cavendish, DDS today at 602-835-1304 or fill out our online form to schedule your family's next dental appointment.