Skip to Content
5 Reasons to Get Dental Implants This Year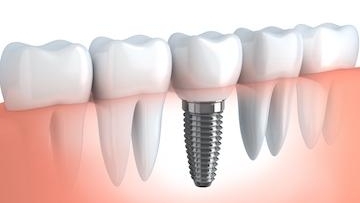 By their very design, your natural teeth were built to last you a lifetime. Unfortunately, though, that's not a guarantee that they will.
You can be injured in an accident and lose a tooth. Teeth can become weakened by acid erosion or decay.
You can also suffer the effects of gum disease, the most devastating among them being tooth loss.
But our team at Matthew J. Cavendish, DDS have the tools, technology, and the team of highly-skilled professionals to restore your smile thanks to dental implants!
Let's take a look at five reasons to get dental implants this year!
Reason #1: Dental Implants Are Most Successful
At Matthew J. Cavendish, DDS, you have a variety of teeth replacement options to suit your needs.
But if you're wondering which are most successful, you need to look no further than dental implants. They have an astounding 95% success rate, making it, hands down, the best choice for treating tooth loss.
Reason #2: Dental Implants Encourage Healthy Bone Growth
You may not realize it, but your natural teeth are supported by healthy jawbone and gum tissue. These are the foundation of your healthy smile. Keeping them strong will help you prevent more tooth loss in the future.
That's why dental implants are ideal! Placed inside your jawbone, they attach themselves to it and promote new growth as time goes on, ensuring the strength and structural integrity of your mouth and face.
Reason #3: Dental Implants Look, Feel, & Work Like Real Teeth
Because dental implants fuse to your own jawbone and encourage new growth over time, you're able to get nearly 90% of your original bite strength back. This is by far the most significant difference between dental implants and other teeth replacement options!
Not only that, but the restorations that cover your implants look and feel completely natural.
You can even secure your dentures with implants for added stability. This is great news considering traditional dentures only give you anywhere from 25-50% of your natural chewing power.
Dr. Cavendish has the skills and technology to make your replacement teeth look beautiful and lifelike in our Phoenix dental office!
Reason #4: You're Not Too Old For Dental Implants
Dental implants aren't right for everyone. You have to have enough room for them and enough healthy bone mass to support them.
But it's not likely that a dentist would advise you against dental implants because of your age. Dr. Cavendish is highly-trained and experienced in determining if patients are suitable candidates for implants in order to maximize their success.
Reason #5: Dental Implants Preserve Your Health For Life!
A restricted diet will inevitably impact your health. When you're not able to chew and tear certain nutritious foods like lean protein or crunchy vegetables because of missing teeth or removable dentures, you're at risk for nutritional deficiencies.
Dental implants, on the other hand, don't put any dietary restrictions on you. They're securely planted inside your jawbone and become part of you, essentially. No other replacement option can give you that kind of bite strength.
Schedule Your Dental Implant Consultation
One of the top concerns patients have about dental implants is the cost.
While we completely understand this concern, what we want you to understand is that dental implants are an investment.
At first glance, dentures may seem more appealing simply because they're cheaper than implants. But that's only true in the short term.
That's because dentures require ongoing maintenance. You have to get them refitted, or even replaced, every few years. Depending on your age, this could definitely add up over the years, making dental implants a more viable option financially in the long term.
We also want you to consider what you get for your money when it comes to replacement teeth. Traditional dentures come with limitations as far as what you can and can't eat. They also lack the stability you need to smile, laugh, and speak with confidence.
Our team in Phoenix, AZ won't ever try to pressure you to make decisions about your dental care that you're not comfortable with, financially or otherwise. We just want you to have all the facts so that when you weigh the pros and cons of various options, you're making the best choice for you, your health, and your smile!
Make it a great year with dental implants! Call Matthew J. Cavendish, DDS at 602-835-1304 or fill out our online form to schedule an appointment.