Skip to Content
Don't Let A Toothache Spoil Thanksgiving!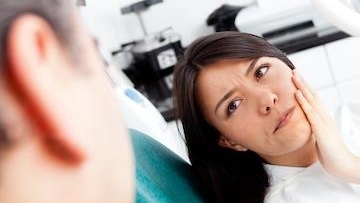 With Thanksgiving right around the corner, you're probably looking forward to some of the culinary staples of the holiday as a nice juicy turkey leg and steaming mashed potatoes and gravy.
But a toothache can totally kill your Thanksgiving joy! Sometimes, a toothache will come on slowly, beginning as a dull, nagging pain and ending up a severe throbbing pain you can't ignore.
You should never try to ignore a toothache, on any given day. But so close to Thanksgiving, you especially shouldn't let that go untreated! You don't want to miss out on one of the most delectable holidays of the year.
With Matthew J. Cavendish, DDS, you don't have to! We want you to enjoy the holiday and all the delicious food that comes with it. That's why in today's blog, we're filling you in on how you can keep a toothache from spoiling Thanksgiving dinner with gentle, effective root canal therapy in our Phoenix, AZ dental office!
Get to the Root of Your Tooth Pain!
Not all problems with your teeth will result in pain. That's why you can't rely on self-diagnosis whenever you have a toothache. And you should definitely never try to convince yourself it's no big deal.
Pain is always an indication that something isn't right. So when it comes to your teeth, what might the pain be trying to tell you?
Toothaches can be caused by a number of things, but here are some culprits:
An untreated cavity
Inflammation
A damaged tooth
An infected tooth
In the case of an infection, Dr. Cavendish will need to perform root canal therapy to get you out of pain and to preserve the health of your tooth. One of the myths about root canals is that they're a less desirable option to extraction, but again, that's only a myth.
That's because any dentist will tell you that tooth extraction should always be a last resort. We want your natural teeth to last as long as possible, so root canals are an effective way to do that.
You might have an infected tooth if you're having a hard time chewing without pain, or when you're experiencing a nagging or constant pain in your tooth or jaw area surrounding it. A root canal is needed to kill the infection that's made its way inside the tooth into the soft dental. This is close enough to the root which is why the infection can cause so much pain in many cases.
Root Canals Are Nothing to Fear!
Of all procedures in the field of dentistry, there's no other that sends chills down your spine quite like a root canal. So many myths surround root canal therapy, some of which we've worked to debunk in our dental blog!
That's because, despite their terrible reputation, root canals are what get you out of pain, not what brings on the pain. Root canals are so important to your oral health and the preservation of your natural teeth.
This is one of the reasons we work hard to provide the latest in advanced technology so your root canal treatment in our Phoenix dental office is as stress-free as possible. With our laser therapy, Dr. Cavendish can gently clean the infection from your tooth effectively and, as many of our patient's report, painlessly.
We also offer oral sedation for a more relaxing, comfortable experience. If you're particularly anxious about dental treatment, facing a root canal can be at the top of the list of procedures you dread. That's where our prescription sedative can help you feel calm and completely at ease while you receive treatment.
Your comfort and health are our top priorities, and our caring team will do all we can to give you gentle, effective treatment so you can get back to a pain-free holiday!
Treat Your Toothache Now!
If you have a tooth that's been giving you fits, let our team at Matthew J. Cavendish get to the root of the problem and get you out of pain fast.
After a thorough exam, Dr. Cavendish will be able to determine if your tooth is infected and in need of a root canal. We can give you high-quality, gentle care so that your Thanksgiving isn't clouded in miserable tooth pain!
Call our Phoenix, AZ dental office today at 602-835-1304 or fill out our online form to schedule your next appointment.