Skip to Content
Get Whiter Teeth This Thanksgiving!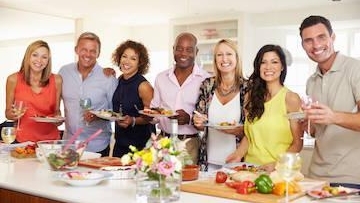 It's hard to believe, but we're just a couple of weeks away from Thanksgiving and the official start to the holiday shopping season. Now, this is certainly enough to send some of us into a bit of a panic, for understandable reasons!
This time of year can be hectic and even stressful. But slaving away in a hot kitchen, frustrating shopping center traffic, and busy stores aside, Thanksgiving kicks off a season of special times with family, friends, and new acquaintances.
Ordinarily, you would probably consider that the silver lining amidst all the chaos, right? Well, maybe not if you're embarrassed about stained teeth.
Our team at Matthew J. Cavendish, DDS is letting you know about a simple cosmetic treatment that could help you enter the Thanksgiving holiday season with an attractive, confident smile.
With professional teeth whitening in our Phoenix, AZ dental office, you're getting high-quality results you can't find in any of those drugstore brand kits. Today, we're talking about what a whiter smile can do for your holiday experience and how Dr. Cavendish can help you achieve it!
What a Whiter Smile Can Do for Your Holiday
You're no stranger to holiday gatherings with family and friends, so you know the routine. There's never a shortage of cameras and smartphones ready to capture memories and immediately share them on social media.
Now, if you're blessed with a beautiful, bright smile, then this ritual is all part of the holiday fun. But if you feel insecure about stained teeth, you'll probably look forward to these photo ops about as much as a root canal!
First, let us say that root canal therapy in our Phoenix, AZ dental office certainly does not live up to all the negative hype about this treatment! Second, it's understandable why you'd want to avoid a camera if you're embarrassed about your teeth.
And how did you get to this point? Your teeth can be discolored for any number of reasons. Some of the more commons ones are:
Your age
Your diet
Your habits (such as tobacco use)
Your health
Your medications
Your genetics
Some of these reasons are under your control, and some of them are not. Regardless, your teeth may be dingy, yellowish-brown, or even sort of grayish in tint. And here you are, worried about how to hide your teeth for the next two or three months!
When it comes to the upcoming holiday season, you're going to be faced with a lot of opportunities to take family photos or gather closely for group selfies.
That leaves you with two choices: you could spend a lot of time and energy coming up with new, creative ways to avoid the cameras or you could do something about those embarrassing teeth stains and enjoy yourself for once!
How You Can Get Whiter Teeth for Thanksgiving!
Anyone who's ever tried to whiten their teeth with a store-bought brand will tell you they're just not that effective. What's more, is that they could be unsafe if applied incorrectly or too often.
If you do get results from store brand whitening kits, it won't likely be the dramatic change in the whiteness level you'd find in our Phoenix dental office. We're able to provide advanced laser lighting technology, as well as professional-grade whitening agents only a dentist office can provide.
So with lackluster results, and OTC kit comes up short. There's also the issue of universally sized mouth trays and strips that can shift around and pose a risk to your vulnerable gum tissues.
For safe teeth whitening treatment that works, you need to visit Matthew J. Cavendish! The great part about trusting our professionals for your brighter smile is that you have options.
Either take advantage of a one-time treatment using our laser whitening technology or opt for a convenient take-home solution! Whatever you choose, you can trust you'll be getting quality, professional, safe treatment, and a brilliantly whiter smile in time for the holiday season!
Schedule Teeth Whitening Treatment Today!
Carry yourself with confidence and get a smile you'll want to show off in pictures. Get professional teeth whitening treatment in our Phoenix, AZ dental office!
Call Matthew J. Cavendish, DDS at 602-835-1304 or fill out our online form to schedule your next appointment.