Skip to Content
Dental Implant or Dental Bridge: Which Is Best for You?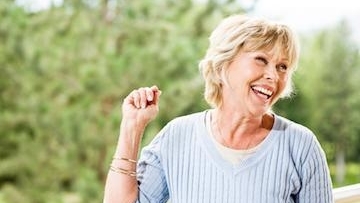 There's a good reason why the phrase, "Gap-toothed smile" doesn't sound good. An empty space in your smile from a lost tooth doesn't look very good at all. Worse, it can make your dental health poor.
That's why you need to call our Phoenix, AZ dental office today at 602-835-1304 and make an appointment. Dr. Cavendish takes continuing education each year to stay current with new research and data. With his expertise, you can replace that missing tooth. But should you go with a dental implant or a dental bridge?
How Missing Teeth Hurt You
Yes, that gap in your smile is a cosmetic dentistry problem. How your smile looks is important, after all. But this is more than just about making your smile look better. Here are some of the problems you can face when you are missing a tooth.
It can be hard to eat tough and chewy foods.
Chewing can hurt the gum in that spot.
It can be more difficult to pronounce your words clearly.
Your other teeth get crooked without the missing one's support.
Your confidence is lower because you know your smile looks odd.
By calling Dr. Cavendish today, you can be one step closer to solving those problems with restorative dentistry. This is important because those problems can only get worse the longer you wait.
Two Dental Restorations That Work
When it comes to replacing a lost tooth, you have two options: dental implants and dental bridges. Here's how they both work.
Dental implants have three pieces: a beautiful replacement tooth, an artificial tooth root, and an abutment that connects the two. You'll have the artificial root surgically implanted in your jawbone. Once that site is healed, the abutment and replacement tooth are connected to the root.
Dental bridges also have three pieces, but they're different. You still get a beautiful replacement tooth, but there's no root. Instead, a dental crown is placed on the two teeth neighboring the gap. Then the replacement is bonded firmly to those crowns, filling the gap.
Comparing Dental Implants And Dental Bridges
Which dental restoration should you get? That depends on several factors, including the health of your jawbone and the size of the tooth that went missing. But here's how these two treatments compare.
Durability: Dental Implants
When it comes to how long your dental restoration will last, dental implants are the clear winner. Dental bridges will definitely do the job, mind you. They normally last about 10 years, maybe a little less if you're not taking proper care of your teeth. But dental implants last 20 years or longer. For some people, a dental implant is the only treatment they need for a missing tooth.
Health: Dental Implants
If you want the dental restoration that does a better job of keeping you healthy, then you want a dental implant. Dental bridges help by replacing the lost tooth, but so do dental implants. But these include an artificial tooth root. It's implanted in your jawbone, so whenever you chew, you stimulate the bone tissue there to keep it from deteriorating. Dental bridges do nothing about bone loss.
Cost: Dental Bridges
The affordability of dental treatment is not something to ignore, and the winner here is a dental bridge. Dental implants require oral surgery to implant the root. That can drive up the cost because surgery requires more specialized training and tools. Dental bridges do not need any surgery to be effective, which is why they're more affordable.
Maintenance: Tie
Some dental treatments require extra care or special equipment to maintain it over the years. For example, you'll need a special brush and food restrictions when you're wearing braces. But for both dental implants and dental bridges, you won't have to do anything out of the ordinary to keep them working and looking good. Just brush, floss, and visit Dr. Cavendish every six months like you always should.
Call our Phoenix, AZ dental office today at 602-835-1304 and schedule your next appointment. Dr. Cavendish is well trained in dental restorations, including being certified in dental implants. With this advanced training, you can be sure to get the dental restoration you need so you have a complete smile.