Skip to Content
Declare Your Independence From Dental Anxiety!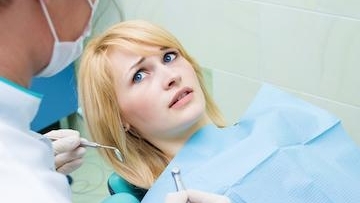 Even though July 4th has come and gone, it always seems the patriotic celebrations continue as the month marches on. That's why before we say goodbye to our country's birthday month, our team at Matthew J. Cavendish is here to help you celebrate another kind of independence.
Your own.
That's right. You can declare your independence this month from dental anxiety once and for all. And our team in Phoenix, AZ can help you!
Let's start by saying dental anxiety is very real, and it affects millions of people in this country. Whether it's because of negative dental experiences from your past or fear of the pain or the unknown, it's the kind of fear that can keep you away from the dentist entirely.
We're going to answer two of the most common questions patients ask us about this issue. After knowing a bit more about why dental anxiety matters and what our team offers for fearful patients, you'll be one step closer to breaking the hold your fear has on you.
FAQ #1: What's the Problem With Having Dental Anxiety?
The problem with having dental anxiety is twofold. It first has to do with your physical health. Just because you're not in pain doesn't mean you should skip regular dental checkups; they're the only way to ensure your teeth and gums are safe from gum disease and other oral infections.
If something as problematic as gum disease is allowed to take over your mouth, you are letting the door wide open for all kinds of very serious health conditions and diseases. Studies have linked periodontal disease to stroke, type II diabetes, heart disease, and rheumatoid arthritis, and the list goes on!
So just because you don't see or feel a dental problem, doesn't mean it isn't there. And dental anxiety is what keeps many people from getting the care they need from the professionals who can detect and treat these potentially threatening issues.
The second part of the problem of dental anxiety is what it does to your emotional wellbeing. When you're too afraid to get the dental care you need, your smile will pay the price. With an unhealthy and unsightly smile, you're obviously going to experience a whole host of negative feelings that come with that. No, appearances don't make us who we are, but it is important to feel good about yourself, and it's really hard to feel good about yourself when you're embarrassed about the way you look.
FAQ #2: How Can I Get Over My Fears About Going to the Dentist?
So what's the solution? How can you conquer your fears about the dentist's chair?
In our Phoenix dental office, we have found one of the best ways to help patients with intense anxiety is with the help of oral sedation. This is where you take a pill about an hour before your procedure.
Oral sedation helps you reach a level of deep relaxation. It's not like IV sedation where you're in a sleep-like state and don't remember your treatment after it's over. Oral sedation is mild enough to keep you awake during your procedure, but it's strong enough to make you not care that you're receiving treatment!
There is much to be said about the power that oral sedation can give you. It gives you comfort and courage knowing that you can get the dental care you need without going crazy with fear and anxiety. It allows you to get back in the driver's seat of your oral health. It's a way for you to pursue cosmetic dentistry, as well, so you can have the smile of your dreams instead of feeling like it's something that'll always be out of your reach.
Now, we have a question for you: when are you going to take that first necessary step toward declaring your own independence from dental anxiety?
We hope today's blog has made that first step feel a little easier now that you know help is right here in our Phoenix dental office with Dr. Cavendish and our caring team.
Give us a call at 602-835-1304. You can also fill out our online form to schedule an appointment.