Skip to Content
Painful Headaches and a Surprising Secret for Relief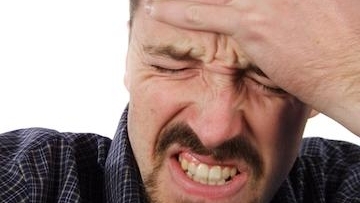 Managing your work and home life is a daily challenge. But under normal circumstances, you can handle it well and enjoy life with relative ease.
Under the constant pain, stress, and pressure of TMJ disorder, however, even simple tasks feel endless and unbearable.
Fortunately, there is help from a surprising source.
Your dentist's office in Phoenix, AZ!
Our team at Matthew J. Cavendish can offer relief from this condition and, in today's blog, you may be surprised by how we're able to do that!
The Problem With TMJ Alignment Issues
It's pretty much part of the adulthood experience to get headaches now and again. But most of the time, they're isolated bouts of your body's daily fight against the stresses of daily life.
You might get a headache if you're super tired, hungry, or a bit dehydrated.
When your painful headaches, and even migraines, become more persistent, though, you might be facing a bigger problem.
A TMJ disorder is when your jaw hinge below the ears is out of alignment, but this can be more serious than just a chronic discomfort.
That's because any problems with the way your upper and lower teeth come together can cause serious issues with your teeth and dental health overall.
One of the common problems associated with TMJ disorder is bruxism, which is the grinding and clenching of your teeth and jaw.
If undiagnosed and treated, it can wreak havoc on your oral health by wearing or chipping away your tooth enamel, leaving all sorts of openings you can't see where harmful bacteria to seep in and cause problems.
TMJ Pain Isn't Limited to Just Your Head
Although frequent migraines and headaches are quite common for sufferers of TMJ disorder or TMD, there are actually a number of red flags that will signal you have this miserable condition.
Surprisingly, the pain and discomfort you may be experiencing will go far beyond your head, spreading to your:
Ears
Neck
Shoulders
Back
Face and jaw
You might also hear clicking or popping in your jaw while you're eating, speaking, or yawning. It's because your TMJ is a hinge in nearly constant motion under constant stress each and every day. Over time, one symptom will become two, then three, then…
Well, you get the idea!
A Surprising Secret to Pain Relief
You'll find modern, innovative solutions to your TMJ disorder and all the painful symptoms it weighs on you in our Phoenix, AZ dental office.
Dr. Cavendish and our team have helped many patients find relief with simple oral devices, such as occlusal splints and prescription pain medications. Both help to ease the muscle tension of TMJ disorder and keep you from clenching your upper and lower teeth together.
But another way we can make you feel better and start living pain-free is thanks to our advanced dental laser technology.
Dr. Cavendish can rely on lasers to treat the inflammation that's causing jaw discomfort and painful symptoms of TMJ misalignment, and you'll start feeling better almost immediately with this state-of-the-art strategy!
Find Relief Today!
You could walk around feeling miserable this summer, constantly feeding the ache in your head with OTC pain relievers in hopes it will give you some relief.
Or you could be done with TMJ misery with effective solutions at Matthew J. Cavendish, DDS PLLC.
Dr. Cavendish has helped countless patients over the years with teeth grinding and its painful effects in our Phoenix practice. All it takes is a phone call to be one step closer to living the pain-free life you deserve.
To learn more about our treatment options for TMJ disorder, call us today at 602-835-1304 or fill out our online form to schedule an appointment.